Rose sex toys are turning TikTok users absolutely insane. That's right. These floret suction sex toys are making the rounds on the video-sharing app and have users obsessed thanks to a series of user reviews claiming them to be the holy grail of sex toys. To be honest, we're not surprised by this at all.
With COVID-19 still in full swing in many parts of the world and social interactions cut to a minimum, many women have taken their sexual pleasure into their own hands—literally! If you haven't picked up a rose clit stimulator yet, listen up. This may just be the perfect gift you need to give yourself or a loved one, whether or not there's an occasion for gift-giving.
But what's all the hullabaloo over these rechargeable sex toys? Are they really any good? Is the rose vibrator safe to use? Where can you get them? Should you really trust recommendations from TikTok? What do the actual customer reviews say? What's the best site to purchase a rose sex toy? Are there any rose toy side effects?
To answer all these burning questions, we tried the rose sucking vibrator TikTok users are obsessed with and we have so many good things to say about it. Now, we're ready to give you the skinny on this little rose toy that may very well become your next favorite toy and bring back spice into your sex life.
What's the Rose Sex Toy and How Do You Use One?
The rose sex toy, or the soul snatcher as we like to call it, has the internet talking. This rechargeable sucking vibrator in the shape of a beautiful rose produces little air puffs that envelop and tickle the clit. The rotating airflow generated delivers intense clitoral stimulation that feels like rhythmic tapping or internal vibration on your private parts—or on any of the sensitive parts of your body for that matter—bringing you to a hell-raising orgasm in just a matter of seconds.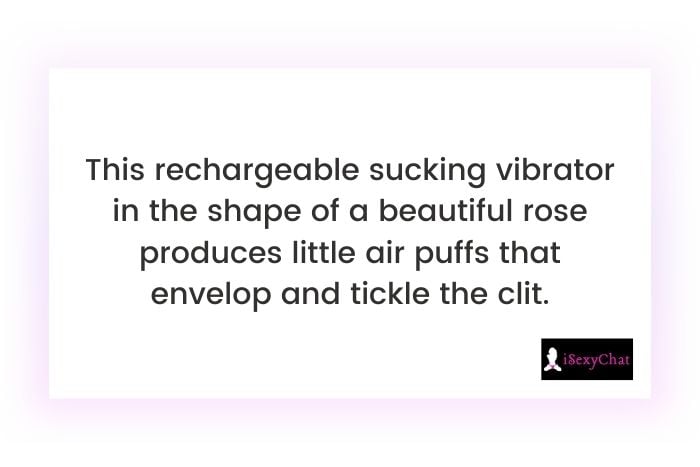 The rose sucking vibrator is probably the most popular variant of the rose sex toy, but there's more than just one kind. For example, instead of air suction, you can get a rose toy with suction mixed with a rotating tongue licker or finger flicker. Some come with shaft vibrators that can reach your G-spot if you need more than just clit stimulation to send you to orgasm. And if you want a second one or a third or fourth, this rose-shaped beauty can easily get you off no matter how many times you want.
Is The Rose Vibrator Bad For You?
The quick answer: Only if you buy from sketchy shops—and there isn't really a valid reason to go with this route since almost every online sex toy shop now offers a rose sex toy. However, different sellers actually stock up on rose vibrators made by different manufacturers, so it still pays to be careful.
The first rose vibrator that went viral was sold by a store called Adorime's Sex Toys, but many other manufacturers now ship their own version of this amazing little contraption at different prices..
To make sure you're buying toys from the right shop and you're laying your money down for an honest-to-goodness soul-snatching experience time and time again, do a thorough search of the market. Read up reviews on the internet, especially reviews from other women who have made the purchase. Always look out for stores that offer reliable service above everything else. You can't send sex toys back for refunds (duh!), so make sure you're shopping from sellers who will put its customers first.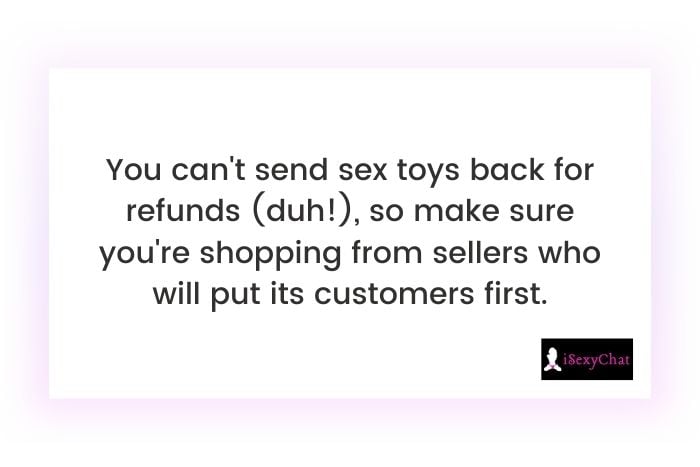 How to Choose a Rose Sex Toy
A rose is a rose is a rose, they say, but when you're buying a rose sex toy, you have to keep in mind that not all rose-shaped sex toys are created equal.
Yes, they're all designed to recreate the feeling of getting head without the need for a partner. But they have different features, vibration settings, and speeds depending on who is selling what. There's a wide range of options, but here are some of the most common types.
1. The rose clit suction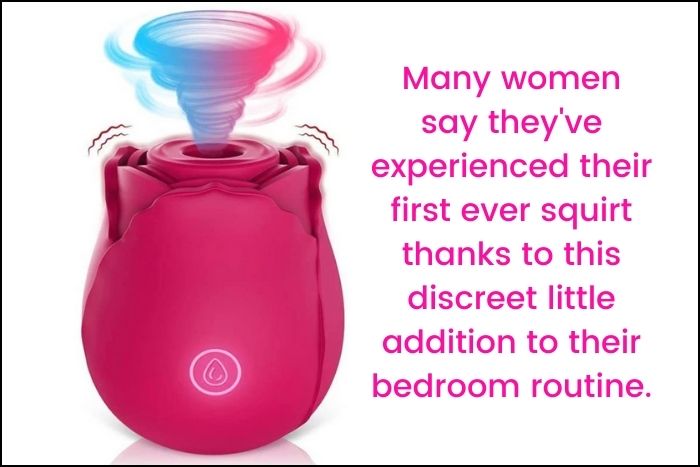 While stores usually sell it as a sucking vibrator, the rose toy can be used in a variety of ways. Aside from your clitoris, you can also use it on your nipples, anus, vaginal opening, or anywhere on your body, really—you'll like the feeling the rose sex toy makes wherever you have sensitive areas. Just make sure you thoroughly clean it before sticking it into your private parts.
You can also play with it during foreplay. Some reviews say you can insert it into the vagina or the anus because of its small and bulgy size. But be careful when doing so. We don't want it getting sucked into the void, do we? It's pretty small and can get trapped in high and tight places if you're not careful.
A rose sucking vibrator is usually made from splash-proof, medical-grade, silky smooth silicone, making it quite sturdy, hygienic, and odorless. But still, avoid dunking it in boiling water when cleaning it as this might damage the motor.
This rose sex toy lets you simulate an oral job using different sucking levels and frequencies. For something so small, this rose toy packs a real punch and is the perfect gift for yourself if, like most women, you get off on clit stimulation. You can start with the lowest setting for some gentle bean flicking and work your way up to more intense frequencies.
Trust us, though, when we say you don't need to go through a lot of frequencies before you get your legs shaking. This little Rose Sex Toy from Phanxy will get your private parts dripping wet within a matter of minutes—literally. Many women say they've experienced their first ever squirt thanks to this discreet little addition to their bedroom routine.
It's soft, silky, and has tons of rave reviews from men and women looking to bring the fun back in their sex lives. It's also waterproof, so you can take it anywhere you want to have some good ol' dirty fun—the bath, the shower, heck, you can bring it to the beach if you want to. Just make sure it's fully charged so you don't run out of battery before you peak for the nth time.
Oh, and one little thing. This beauty comes with some serious buzz. If you're not careful, other beachgoers might hear. So, just something to think about before taking it out of your beach bag. You may need to look for a secluded spot before whipping out your rose sex toy.
The Phanxy rose vibrator has it all, really. But if you're on a search for something a little bit more affordable, the Rose Inya Air Rose Clitoral Stimulator is a close second. It's a discreet little crowd-pleaser that combines air suction and pressure wave stimulation to send you to orgasm in a flash. The Rose Clitoral Stimulator is not waterproof like the one from Phanxy, so don't go reaching for it when you're in the bath.
Another alternative is The Rose Clit Sucker. Like other sucking vibrators, it creates wave after wave of air puffs that envelop and rush into the clitoris. This creates vibrations that suck and stimulate the clitoris, giving you one fast intense orgasm after another. The Rose Clit Sucker is splash-proof but it's not waterproof. If you like a lot of water play, we suggest you get Phanxy's Rose Sex Toy.
2. The rose licking vibrator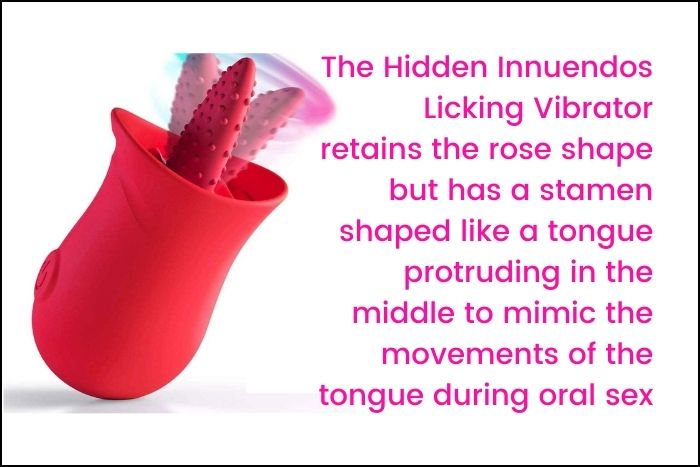 The rose sex toy is first and foremost a sucking vibrator. But if you can only get off with the flick of a tongue, you're going to be one happy customer if you buy the Hidden Innuendos Licking Vibrator. It retains the rose shape but has a stamen shaped like a tongue protruding in the middle to mimic the movements of the tongue during oral sex. It also has tiny little nubs to give you more sensation.
But if you're a finicky customer who likes shopping around for sex toys with multiple uses, we suggest the Phanxy's 2-in-1 Sucking and Tongue Licking Toy. It offers the best of both worlds by combining suction and licking in a single sex toy. It's rechargeable and comes in seven intense modes. Just keep on clicking the button until you find the right intensity and speed for you. It's also waterproof and lubricant-safe, but use a water-based, non-corrosive lubricant to extend the life span of this sex toy.
3. The 2-in-1 G-spot vibrator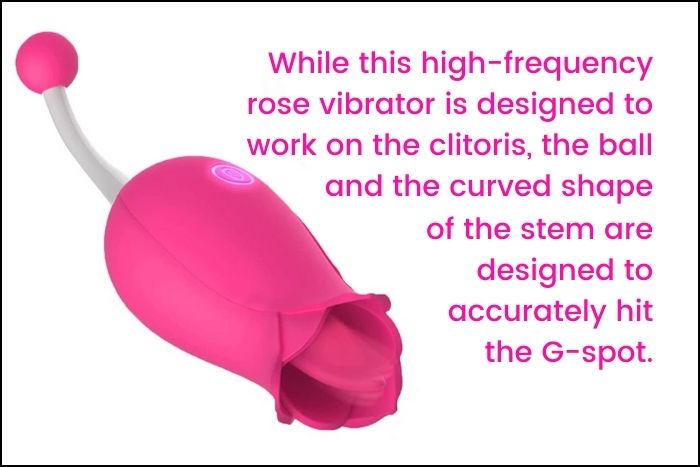 If simple rose clit suction doesn't cut it for you, try this 2-in-1 Rose Licking and G-Spot Vibrator from Phanxy. It has the shape of a rose and has a stem extending into a little ball. While this high-frequency rose vibrator is designed to work on the clitoris, the ball and the curved shape of the stem are designed to accurately hit the G-spot.
There's only one button that controls the rose and the ball, but it has two motors that control both ends separately. This makes it easier to turn up the speed or frequency of either end individually. Just double-click to switch between the two ends. With the 10 powerful licking modes it's equipped with, you won't ever find this toy monotonous.
Like other rose sex toys, this 2-in-1 toy is also waterproof and made from medical-grade, skin-friendly silicone that's perfectly safe to use. But unlike other similar toys, you get almost the same use time as the charging time thanks to its low power consumption design. For every 70 minutes of charge time, you get 75 minutes of use time.
There are plenty of ways to play with this double-headed vibrator, whether you're with someone else or flying solo. You're only limited by your imagination. Plus, its small size makes it easy to carry around in your travel bag, so you don't have to miss your rose sex toy when you're away.
But if you're still looking for other options, you may be interested in this 2-in-1 Clitoral Licking & Vibrating Rose Toy from the same store with a slightly different design. Its head looks like a rose with a rotating tongue that tickles the clit. The stem is a vibrating shaft that's designed to stimulate the G-spot. The shaft
Its head also looks like a rose with a rotating tongue that tickles the clit and a shaft that's designed to stimulate the G-spot. The difference is that the tail end of the toy is designed to have a twisting motion that lets it rub the G-spot while keeping the rose in contact with the clitoris.
It has nine intensity levels from gentle and romantic to earth-shattering. So you'll definitely find the right vibration mode for you, whatever your mood is. Your orgasm is literally just a push of a button away.
4 Ways to Clean Your Rose Suction Vibrator
It's a given that you should wash your sex toy to keep it hygienic. But do you know the best way to clean it without damaging it? Follow our cleaning tips and your toy will surely stay with you and keep you happy for much of your life.
1. Know what it's made of
Many of the rose suction toys you see online may look alike, but they're not made by the same manufacturer. That means the quality and materials used may vary. Knowing what your rose sex toy is made of will help you determine how to safely clean it. For example, a sucking vibrator made from Cyberskin, latex, and jelly rubber is porous, so you must clean it only with warm water and small amounts of mild soap.
On the other hand, a rose vibrator made from non-porous materials like glass, hard plastic, and medical-grade silicone is non-irritating to sensitive skin so it's a lot easier to clean. You can use hot water for washing your sex toy, but you should still use mild, unscented soap to avoid interfering with your vagina's natural pH balance.
A rose vibrator that's made from medical-grade silicone is easy to clean. Plus, it's quite sturdy and completely waterproof. But don't dunk it in a pot of boiling water. It's motorized and will get damaged if you boil it.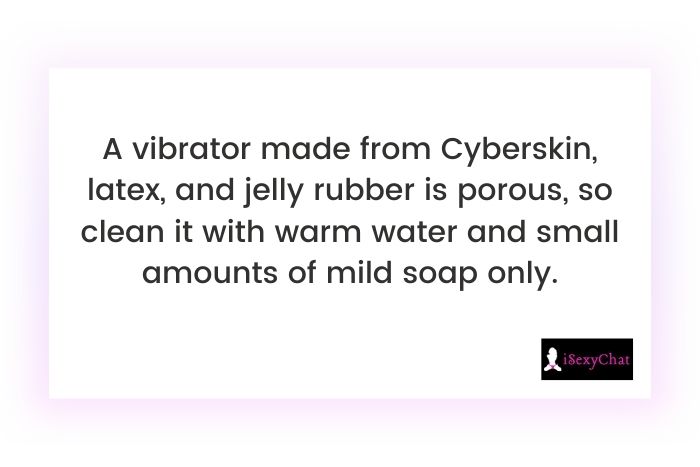 You can also use commercial toy-cleaning sprays and wipes. They have all the ingredients necessary to sanitize your toys without ruining them, but they're more like hand sanitizers. They work well when you're in a hurry, but they don't clean as thoroughly as water and soap.
2. Wash before and after use
It goes without saying that you should clean your adult sex toy after use. But did you know that you should also wash it before use? It might sound like a hassle, especially if you're in a bit of a rush. But assuming your toy is safe to use because you washed it the night before could put you at risk for infections.
Storing your toy in a sanitized case after washing it helps keep it clean, but you can never be too careful with the things you put inside your vagina. Cleaning it before and after use will keep you protected against possible infections at all times.
3. Dry it off with a clean and soft towel
After rinsing and cleaning your sex toy, gently wipe it dry with a soft, clean cloth. Avoid scrubbing it too vigorously so you don't scratch or damage the surface. Also, make sure you use a fresh towel every time. Don't assume it's safe to use the hand towel hanging in your bathroom. Even if you live alone and never have guests over, any unwashed towel most definitely has bacteria hiding in between the fibers.
4. Store it properly
Once you're done cleaning your rose toy, it's time to put it away. But make sure it's completely dry before storing it because damp sex toys are susceptible to mold and mildew.
Keeping your toy locked up in a secret drawer may seem like a good idea but hiding it in an enclosed space is not the best way to store it. It needs air and breathing room. It's so pretty nobody will know what it is anyway. In fact, when it comes to discreet sex toys, they're probably the most aesthetic. So just let it out in the open.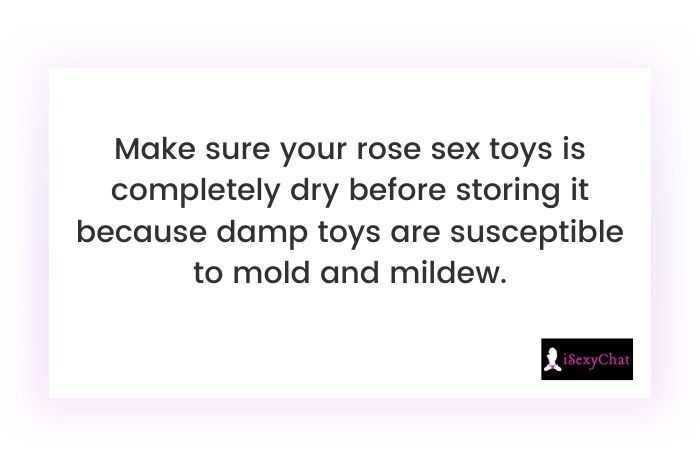 If you really must keep your toy out of sight, we suggest you cover or keep it in a silk or satin bag. Silk and satin are smooth, so they won't scratch your toy. Plus, they're highly breathable, ensuring plenty of air circulation.
Our Verdict on the Rose Clit Stimulator
There are no words to describe how amazing the rose sex toy is, especially if you've got no more than a minute and you're looking for a quick orgasm. It'll bring you to heaven and back and heaven again in mere seconds. You probably won't even have enough time to collect your thoughts before you're back riding the waves of extreme pleasure.
Of course, no matter how many positive reviews we see online, it's not for everyone. There are still those who aren't overly impressed with this toy. We don't really understand why. They're probably too desensitized. Whatever their reasons, we still highly recommend you give this a try and see for yourself. It's not that expensive anyway.
Just make sure you only get your toys from reputable stores. You may be tempted to buy from questionable international dropshippers because of the low prices they offer, but the rose toy side effects from toxic materials just aren't worth the few dollars you get to save.