The technical side of webcam modeling or any sort of live-streamed content, for that matter, has become more sophisticated over the past years. Gone are the days of choppy 15 frames-per-second (fps) videos in grainy 240p resolution.
Thanks to the rapid development of video and audio communication equipment and internet speeds, we're now able to send out buttery smooth videos in various high-definition resolutions to viewers all over the world in real-time.
Putting together a cam modeling setup is relatively simple. Once you've done it once or twice, the process becomes second nature. But deciding on the different components that go into your cam show system is an entirely different animal in itself.
Some models settle for the bare minimum when it comes to live streaming equipment. But modern audiences are much more discerning about the overall quality of webcam shows. Being a mostly audiovisual experience, subpar gear might significantly bog down your broadcast despite your amazing performances.
Indeed, webcam modeling doesn't just involve talents in providing great adult entertainment to a live audience. It also calls for some technical know-how if you're keen on putting out a high-quality broadcast through and through. And having the right pieces of equipment is one of the most important aspects of a great cam show.
Essential Webcam Modeling Equipment Guide for New Cam Girls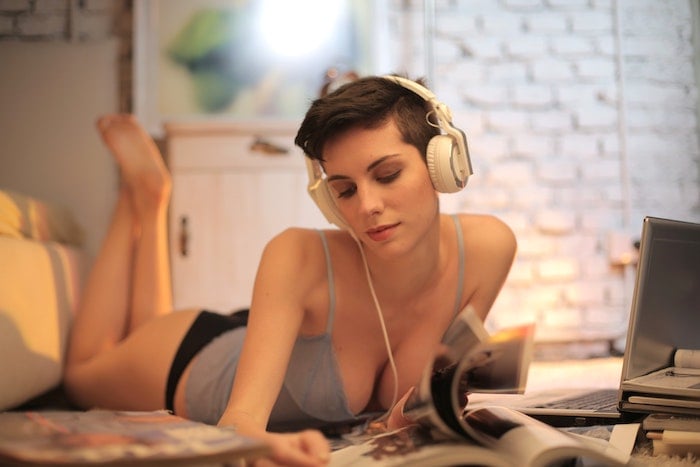 Starting your webcam modeling career from absolute scratch is not a cheap affair. Let's just get that unpleasant truth out of the way. The good news is you're not a gaming live streamer, which means you don't have to shell out ungodly amounts of money for a webcamming system.
A game streaming setup also takes into account the game itself, which often eats up a ton of computer resources. A webcam modeling one is a lot less complicated. This gives you more room financially for investing in hardware pertinent to sending out great video and audio quality.
But that's not saying you should use the computer your parents gave you when you moved out for college in 2016.
1. Your computer
Most live-streaming platforms state that the minimum requirements for broadcasting on their website is a computer with a dual-core processor and 4GB of RAM, and that's that.
But the real-world values that your computer should have depend on the picture quality of your stream. This mostly involves its resolution and frame rate.
Resolution
The resolution is the general size of the video. If a viewer watches your show on a mobile phone, then a standard definition (SD) 480p resolution will suffice. But if they consume your content on bigger screens, such as a tablet, a computer monitor, or a TV set, then you'll have to have your stream available in higher resolutions—at least 720p (high-definition or HD).
"Why does resolution matter if all people want from me is to take my clothes off and do sexy stuff on the internet?" you might ask. People enjoy adult live shows through different means and picture qualities, as we've said. Some are happy watching on smaller devices, while others may prefer seeing your shows on larger displays and on full-screen.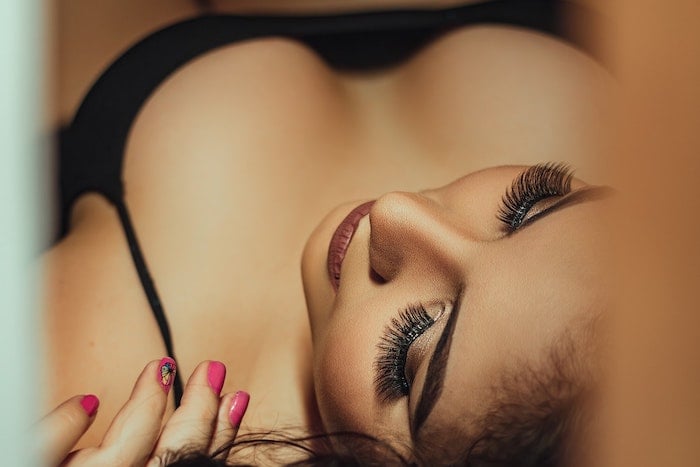 A video even in 720p stretched out to full screen on a 24-inch computer monitor would look noticeably blurry and generally off-putting. Imagine what it would look like on a 42-inch 4K TV. That's why we recommend a computer system that allows you to stream in at least 1080p resolution, also known as full high definition or FHD.
Your viewers will enjoy your cam shows more if the videos are crisper and clearer. What's the point in getting all dolled up and hitting the gym six times a week, if your video looks like someone rubbed Vaseline on your camera lens?
If picture detail matters to you when you're watching videos on YouTube, then it matters to your viewers when they're watching you on Chaturbate. Give them the best cam girl experience by giving attention to this particular video quality element.
Frame rate
If you're old enough to remember what webcam videos looked like in the late '90s up to the early 2010s, then you're aware of how terrible low frame-rate videos could be.
Back then, 15fps was a luxury. Video calls that look like really fast slideshows were not uncommon. Today, 30fps is pretty much the standard frame rate on most streaming platforms, with some cam sites even supporting up to 60fps. This side-by-side comparison video should clue you in on the immediate difference between the three frame rates.
Frame rate determines how many individual still shots or frames there are in one second of a video. It's what's mostly responsible for how smooth the movements in your stream will be. Your broadcast is "dropping frames" when motions in your video become choppy and jerky.
So what specs should you look for in a laptop or what exactly do you need to stick into your CPU tower?
Processor or CPU
Yes, streaming websites are mostly right with their dual-core processor recommendation. But we recommend getting a Hexa-core (six cores) processor for a significantly better performance, which will benefit you greatly if you're going to use your computer for other tasks apart from live streaming.
Intel's i5-11400 Processor or its AMD—another prominent processor manufacturer—equivalent is a good mid-table choice. It came out in early 2021, which means it's fairly new to the market and will have some longevity to it. It's not that expensive as well, currently going for about $173 on average.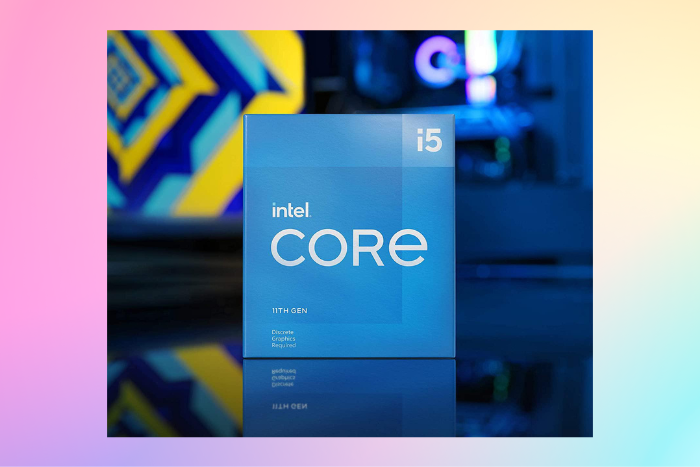 It has a minimum speed of 2.60 GHz, which is more than enough juice for your cam shows as well as other background tasks. You might think that the 2.60 GHz speed seems low. But the processor has six physical cores and an additional 12 virtual cores called "threads".
Plus, that's just the minimum. If you know how to boost a CPU's performance, you can ramp up that bad boy up to 4.40 GHz.
The i5-11400's integrated graphics processor isn't something to scoff at as well. It sports the Intel UHD Graphics 730 processor, which is 4K-capable.
With this processor or anything that's specced similarly, you can maximize the high-quality video support that some cam sites offer.
Memory or RAM
4GB of RAM is basically nothing these days. We recommend at least 8GB, which is just about the standard amount of memory for a mixed-use computer. But what is RAM?
RAM or random access memory is sort of a temporary data storage. Imagine you're in a library. The shelves are your hard drive. And when you pick up a few books and bring them to a table, the table stands as your RAM. It makes it easier and faster to get to the data within those books because you already have it close to you as opposed to standing up every time to get one from the shelves.
RAM makes computer processes run more efficiently and quickly. The higher your computer's RAM values, the smoother your computer will operate theoretically. This will make your broadcasts a lot less prone to lags and catastrophic failures, such as hard crashes.
RAM is upgradable but this depends on your processor and motherboard. For example, the processor above allows for up to 128GB, which is much too much for webcamming. Memory sticks are also not too pricey. A 16GB Corsair set (pack of two at 8GB each) will set you back to around $66.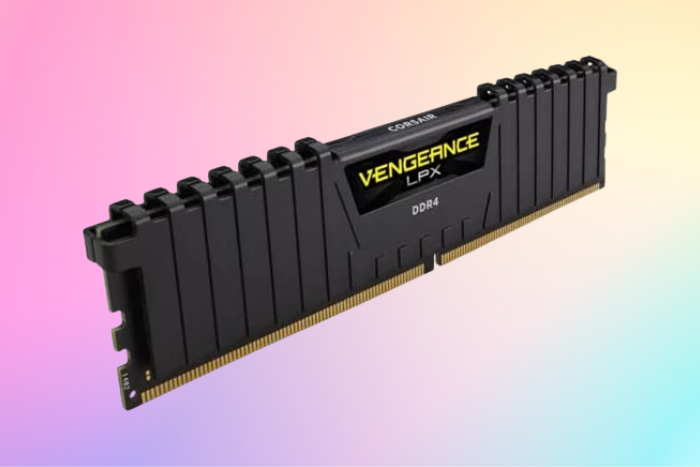 Dedicated graphics card or GPU
The CPU's onboard graphics processor (AKA integrated graphics) is good for light use and even for webcamming purposes. But most online professionals prefer having a dedicated or discrete graphics card.
But isn't that just doubling the cost since the processor already has a graphics processing unit (GPU)? Not if you're thinking ahead. You see, the CPU shares RAM with the integrated graphics processor. This means you can overburden your system if it uses up too much RAM, like if you're broadcasting 4K videos, for example.
A dedicated graphics processor or card has its own RAM called VRAM. It's a much faster type of memory, which will take a lot of the graphics processing weight off the rest of the computer system.
The Gigabyte Geforce GTX 1050 Ti is a good all-around choice. It has 4GB of VRAM and costs around $300. Unless you're a power user or a hardcore gamer, don't bother with cards that have flourish features, such as ray tracing or VR readiness. Those cost thousands of dollars a pop.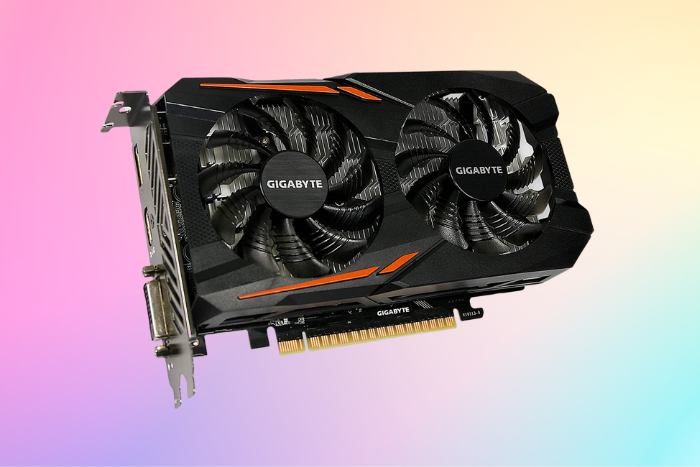 Use the dedicated card as your main GPU and the integrated one as your backup. As someone who relies on a computer for a living, having a plan B is never a bad idea.
Of course, you also need a motherboard and other components. Most motherboard models that came out in the past two or three years are compatible with CPUs and GPUs that have the specs we mentioned here. But do consult with an expert before making your purchases.
2. Your camera
Once you've confirmed that your computer system is up to the task, it's time for the most essential webcam modeling equipment—your camera.
We've said it before and we'll say it over and over again. If your computer is a laptop, don't bother with its in-built webcam. Most of the time, the quality of these cameras is dirt poor and you have to work around the fact that they're fixed to the top panel.
We're spoiled for choices when it comes to web cameras but few stand out to be the most reliable means of sending out the most important element of your live cam shows.
Here are several of our top picks and a few surprise recommendations.
Logitech C920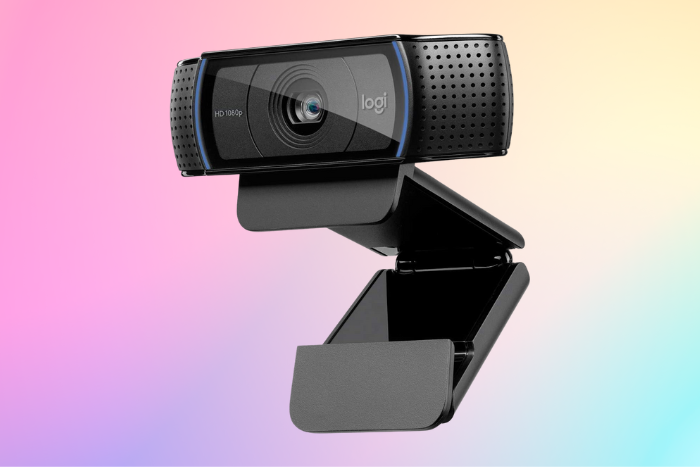 For a webcam that came out in 2012, the Logitech C920 has retained its popularity among live broadcasters to this day. This is because it's a no-fuss model, which consistently puts out good quality video and passable audio.
The C920 records and streams video in 720p or 1080p, both at 30fps. It has good autofocus and uses Logitech's RightLight2 auto-light correction feature. The 78° native field of view is more than adequate for webcamming.
It has built-in dual stereo microphones, which have serviceable noise reduction and a range of up to one meter. The audio quality, as a whole, is pretty good and sends out both spoken words and your sultry moans to your viewers quite clearly.
This plug-and-play device has a fixed USB-A cable. You attach the camera unit atop your screen via the bottom clip, which grips onto surfaces really well, thanks to the rubberized paddings. The universal screw hole at the bottom of the base makes it easy for you to position the camera elsewhere.
Of course, the video quality has started to show its age, especially when compared to newer models. But for the $60 give or take price tag, the Logitech C920 is a good get for both beginner and seasoned online content creators who are on a budget.
Pros:
Overall good video and audio quality
Full HD recording and streaming
Above average autofocus and light correction
Affordable
Easy to use
Cons:
Chunky and outdated design
Frame rate capped at 30fps
Limited features
Logitech C922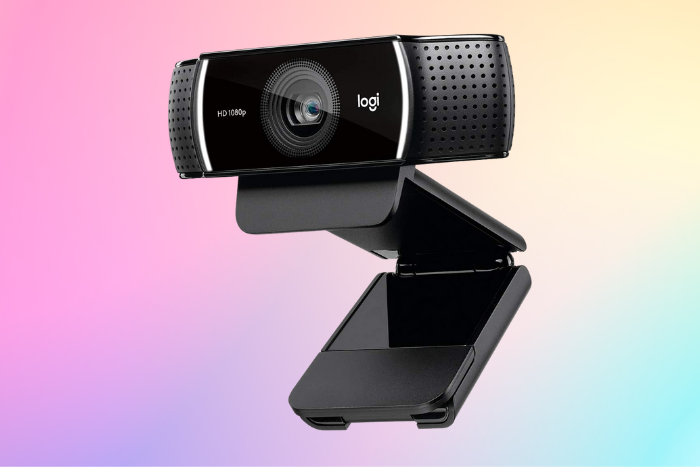 By most accounts, the C920 and the Logitech C922 are pretty much identical. The major difference is that the latter allows for recording and broadcasting at 60fps but only in the 720p resolution.
Naturally, you will notice a dip in the general video quality when in the 720p at 60fps mode. But the tradeoff is buttery smooth motions, which is perfect if you often bring out particularly active performances.
There are some aesthetic differences but you wouldn't be able to tell the two apart with a glance.
A nifty feature is the digital background removal tool, which allows you to remove your background without a physical green screen. It isn't something webcam girls would often need to use but it's a nice touch. The effectiveness of this feature is hit or miss, though, as the cropping can get a bit dodgy at times.
Depending on where you buy yours, it may come with a tripod. Logitech sells a sub-variant of this webcam called the C922x. It's just the C922 bundled with a three or six-month premium license for XSplit—a very well-reviewed streaming software.
Just like its older sibling, the C922 is Windows and macOS compatible. You have to buy a privacy lens cover from a third-party supplier.
In most cases, the C922 is about $10 more expensive than the C920. The C922x, however, goes for around $90, which is a bit steep for the rather meager add-ons.
The Logitech C922 is a great webcam, for all intents and purposes. The frame rate boost in 720p will give your shows an extra layer of quality and a much better viewing experience for your audience.
Pros:
60fps in 720p
Flexible mounting options
Useful features and bundled add-ons
Inexpensive
Windows and macOS compatibility
Cons:
Uses outdated digital background removal technology
The C922x variant is pricey
No privacy shutter
StreamCam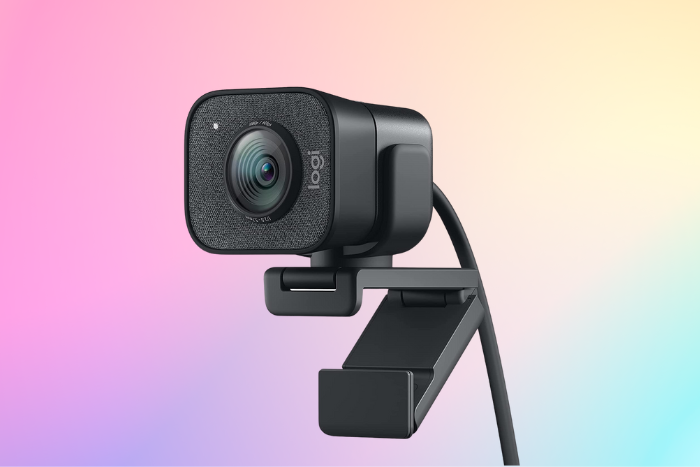 The StreamCam straddles the line between Logitech's budget and premium webcam ranges. At around the $160 price point, it's certainly not cheap but it does outperform the previous two entries by a significant margin.
Firstly, the StreamCam is capable of streaming in full HD (1080p) at 60fps. So audience members who prefer to watch your shows on larger displays can do so with the added benefit of much smoother movements.
It has really powerful AI-assisted facial tracking, which auto-frames and keeps you at the center of the shot. You won't have to worry about constantly checking your feed to make sure you're still within frame when you're moving a lot.
The intelligent auto-exposure feature keeps you looking fabulous in varying lighting conditions. Coupled with the impressive autofocus, this high-quality webcam will help your audiences get a better appreciation of their favorite cam star.
Audio from the dual front-facing microphones is good enough for vocal performances if used in a treated room. The build is pretty solid and has an adorable action camera-esque form factor, like one of those tiny cube sports cams.
Here's a feature that you'll probably like. Turn the camera 90° and you can shoot or stream vertical videos. This is a useful feature for shooting pre-recorded clips for your social media content or your premium-tier patrons.
It has a USB-C interface, which means it transmits data a lot faster and more efficiently than the C920 and C922. But many users do complain about the fact that the cable is fixed permanently, making it a bit of a chore to pack for travel. It has a bit of weight to it as well.
The StreamCam is compatible with most of Logitech's great companion software, which grants access to tons of customization options.
All in all, this is a good choice for cam girls who want a bit more value and versatility from their webcam.
Pros:
60fps in 1080p
Good video quality
Vertical orientation
Great software support
Fast USB-C connection
Useful auto-face tracking, focus, and exposure features
Cons:
Heavy for a webcam
The fixed cord is a hassle
A bit expensive
Canon PowerShot G7X Mark III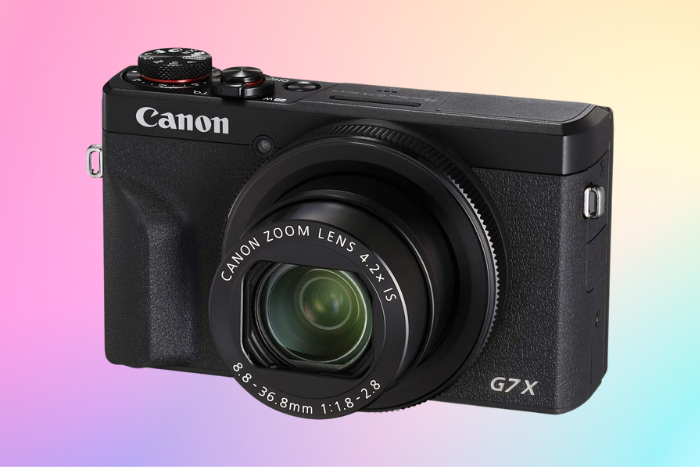 The Canon PowerShot G7X Mark III is a favorite among content creators and live streamers. This bad boy is jammed with premium features, which explains the rather hefty price tag.
The G7X, as of writing time, costs around $750 for a brand new unit (camera only), with "good as new" refurbished ones going for around $600. But do know that we're no longer in webcam territory. This camera is a full-on DSLR.
If your cam site or video conferencing program allows 4K streaming, then the G7X is more than happy to oblige. The frame rate in 4K is capped at 30fps. But if a client wants to watch you on their 75-inch TV, then they can do so without sacrificing video quality.
In 1080p, however, you can bump up the frame rate to up to 120fps. Most webcam sites and video-sharing platforms only support up to 60fps. But you can still use this camera for shooting extremely high-quality pre-recorded content, which you can sell to fans through your bio on your preferred cam site.
This 20-Megapixel powerhouse is Windows and macOS compatible and has optical image stabilization, making it an excellent vlogging camera as well.
The 3-inch touch panel LCD is tiltable to up to 180°, making it easy for you to monitor your framing and blocking.
Since the G7X is a performance beast, it suffers from overheating, especially when in 4K mode. Broadcasting from an airconditioned room or studio should solve this issue.
The Canon PowerShot G7X Mark III's price is a bit shocking but those in the know will say that it's actually quite affordable for a DSLR of its caliber. And once you go down the DSLR route, it's hard to go back to budget or even premium webcams.
Pros:
4K streaming
High frame rate in full HD
Versatile
Commercial-quality pre-recorded videos
HDMI connection
Cons:
Not budget-friendly
Prone to overheating
Very bulky and heavy
Requires a tripod
Sony ZV-1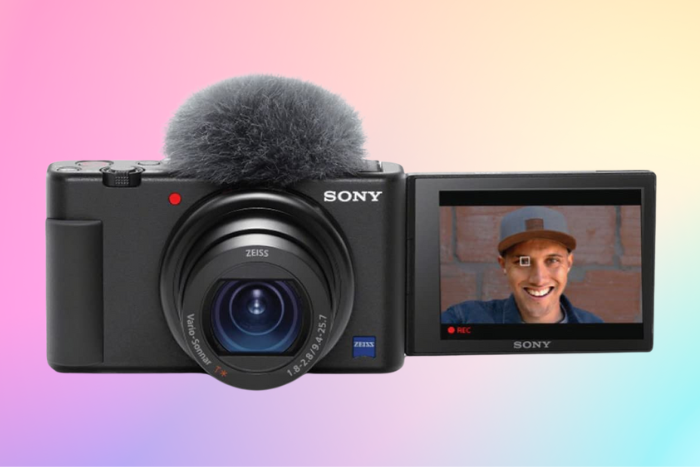 Let's up the ante and look at a camera that will set you back a whopping $1,000 brand new and just for the camera unit. Yes, the Sony ZV-1 costs that much, but if you're lucky, you can get a used unit for about $700.
This hyper-premium number was made for vloggers and, until recently, live streamers as well through a major firmware update. The ZV-1 is a compact camera and not a DSLR but it does stream in 4K.
This video camera fully shines when in 1080p mode where various amazing features are enabled. The face and eye autofocus features put your beautiful self as the focal point of the video. It doesn't get easily distracted by sudden hand movements or background objects.
The skin softening effect gives your skin an added glow, which your viewers will most certainly appreciate. Turn on the bokeh effect and it will give your background a soft blur look, bringing more attention to you as the main subject.
While just in full auto mode, the ZV-1 puts out professional-level video. If you're willing to dive deeper into the settings, you can customize the quality of your video output to even greater heights.
Being made by Sony, it's a given that this absolute unit of a camera handles low-light situations extremely well. The three-capsule built-in microphone produces nearly studio-grade audio and has incredible noise reduction.
This is a high-performance camera, which means it eats up power like a monster. Even when connected to your computer via USB, the ZV-1 only lasts up to three hours since the power input is not enough to catch up with usage.
There are a few workarounds for this problem. This video tutorial should help you get over this bump with minimal spending should you decide to go with this camera.
As mentioned, the fact that several useful features are disabled when streaming in 4K is a bummer. But you're probably going to broadcast your cam shows in lower resolutions, so this shouldn't be that big of a deal.
It will take us hours if we're going to tackle all of the Sony ZV-1's fantastic features. All we'll say is if you have the dough and are looking for an outstandingly versatile camera for streaming as well as supplementary content production, then you can do much worse than the ZV-1.
Pros:
Advanced autofocus
Excellent low-light handling
Professional-grade audio
Feature-rich
Compact
Subject beautification functions
Cons:
Very expensive
Useful features disabled in 4K
Power consumption issues
3. Your microphone
Your microphone is also an essential cam model equipment. Most webcams have built-in mics, and they produce passable audio with which your audience won't have much trouble. The webcams and high-end cameras we recommended above give out much better quality audio compared to cheap models.
But if you're keen on giving your viewers a good listening experience on top of great visuals, you may want to consider getting a separate dedicated microphone.
When it comes to live streaming mics, most content creators go for models that are like the ones in Blue's Yeti line. The base Blue Yeti model is one of the most recognizable USB condenser mics today.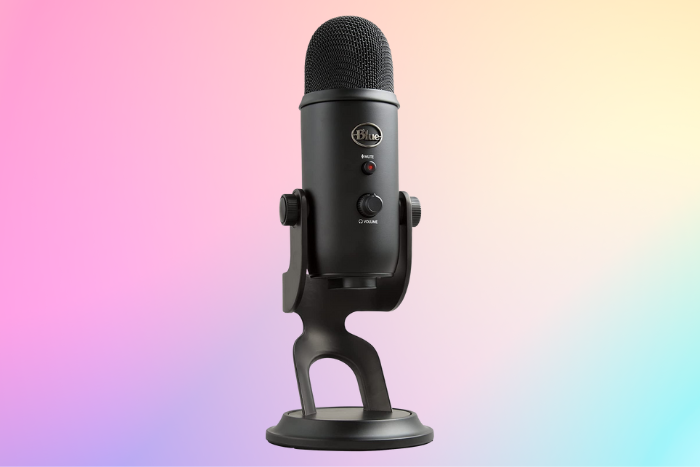 The problem with the Yeti, though, is it doesn't have the right polar pattern for webcam shows. A mic's polar pattern is the direction from which it captures sound. The most commonly used polar pattern by content creators is cardioid, which takes in sound at a wide angle in front of the microphone. But the range isn't that great.
This is why most of the YouTubers who use a Yeti or any similar models look like they're practically making out with their microphones. The sound is great but the mic obstructs the video personality and that's a huge no-no for webcam modeling jobs.
What you'd want is a mic that has a shotgun polar pattern. A shotgun mic is focused on capturing audio directly in front of it but the pickup pattern is much more concentrated, like a narrow cone.
The range is also much better. Ultra-high-end shotgun microphones can pick up audio from up to 10 feet away. You can position a shotgun mic from as far back as the back of your monitor and still put out good audio.
If you do decide to add a dedicated shotgun mic, then the RODE VideoMic GO II is a good entry-level option. It's a compact directional microphone that's mainly designed to go atop cameras but can also be used on computers and even mobile devices.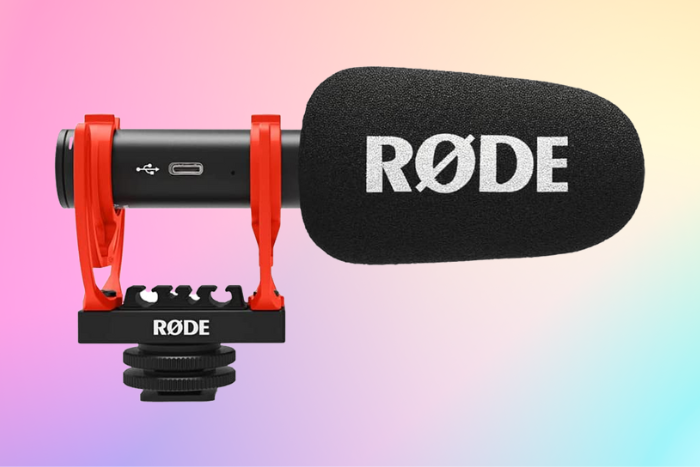 You can connect it to your computer via a 3.5mm audio or a USB-C cable. The USB cable is an aftermarket purchase, though. If you're going to use the provided 3.5mm cable, you may need an extension cable as the one that comes in the package is rather short.
The VideoMic GO II comes bundled with a high-quality shock mount, so your audio won't get affected if you accidentally bump your desk.
This microphone costs around $100, which isn't that bad considering the fact that it's a RODE, which is one of the most popular and trusted brands when it comes to audio.
We'd like to stress that an external microphone is optional for webcam modeling. But it is a great investment, especially if you're the type that wants to inject quality into every aspect of your shows.
4. Your lighting
Lighting, of course, is very important. It's not enough that your scene must be bright enough for basic visibility. The best webcam girls heavily consider the aesthetic side of lighting up their live shows.
A basic lighting setup is made up of at least three components.
Main Light or Key Light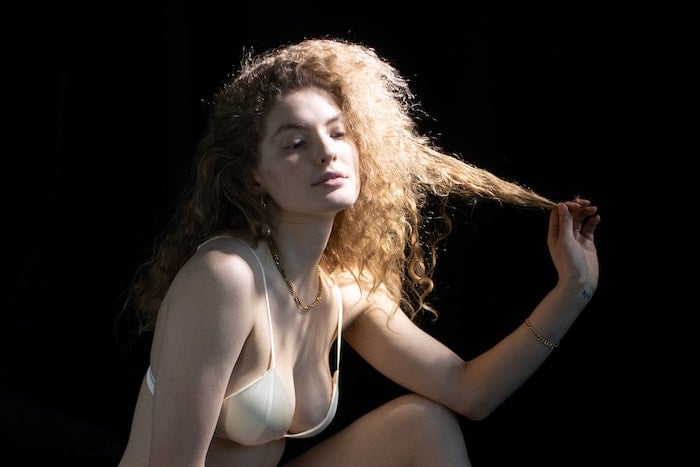 This should have the highest intensity among all your light sources. It's placed either behind your camera or at an angle to your face and body.
The color temperature should be a bit warmer than your complexion. If you're pale and you use straight-up white bulbs, you'd look like a ghost.
Ring lights are great since they scatter light across your person adequately and they can be placed at around the same spot as your camera. However, they're often not bright enough, especially if you're going to position yourself at a considerable distance from the camera.
Get a big enough ring light or offset the difference with another lamp positioned right next to it.
The main light might be too harsh on your eyes, so diffuse or soften the intense brightness by wrapping it in plain white paper or cloth.
Fill Light
The main light's intensity will produce shadows and glare. It's the fill light's job to eliminate those and level out your lighting slightly from the side.
Place the fill light behind the camera at a 45° angle. It should also be a tad bit higher than your webcam.
The color temperature should be a bit cooler than the main light, while the intensity or brightness should be 50% to 75% of the main light. A regular daylight bulb should do.
Backlight or Rim Light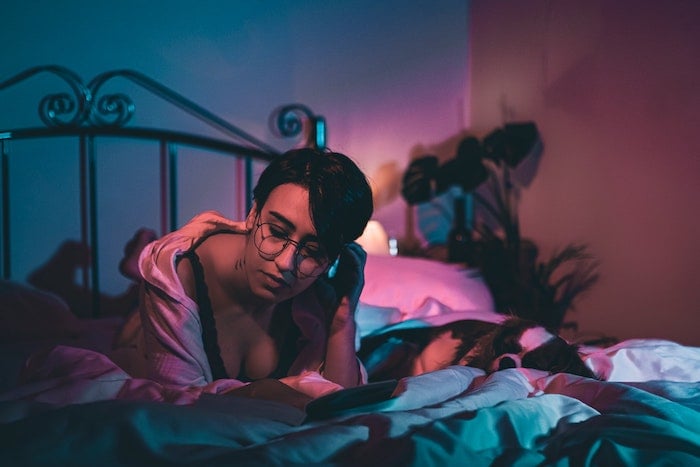 The purpose of a backlight is to separate you from your background. It creates a rim of light or an outline of your body from the back.
It should be placed behind you, off-frame, and must be the most elevated among your light sources. It should have the lowest brightness as well. The color is as per your personal preference, but many experts recommend blue, purple, or even pink as they help make you, the subject, pop out more.
A backlight makes your scene more dimensional and a lot less bland.
As a beginner, you can DIY your lighting setup easily by simply getting off-the-shelf lamps and light bulbs. In place of dimmer switches and dials, you can manage light intensities by getting bulbs of varying wattages.
Always put safety first. Only use LED bulbs as they don't get too hot. This is crucial if you're going to be using pieces of paper or textile as DIY diffusers. Keep flammable materials away from power sockets.
You can add accent lighting as well if you're feeling fancy. Get RGB bulbs that automatically switch between different colors and point them at your background or side walls. They'll add a touch of mood and break the monotony of your main lights, which have similar color temperatures.
Invest in lightboxes, diffusers, dimmers, reflectors, and the like, when your budget eases up.
Also, note that this basic three-point lighting setup is meant for webcamming purposes. Don't confuse it with other tutorials you find on the internet as they're probably configured for other purposes, such as "talking head" videos or podcasts, despite also utilizing the three-light technique.
5. Your furniture
Just a bed with inoffensive sheets and blankets would do. If you want to be practical, a sofa bed with wheels is a good choice.
You can use it as your computer chair while chatting away with your viewers. And when you're ready to start the show, you can set it down and you're good to go. It saves space and your back will thank you for it. Sitting on a bed without back support is not sustainable, especially if you're going to be sitting there for hours.
6. Your toys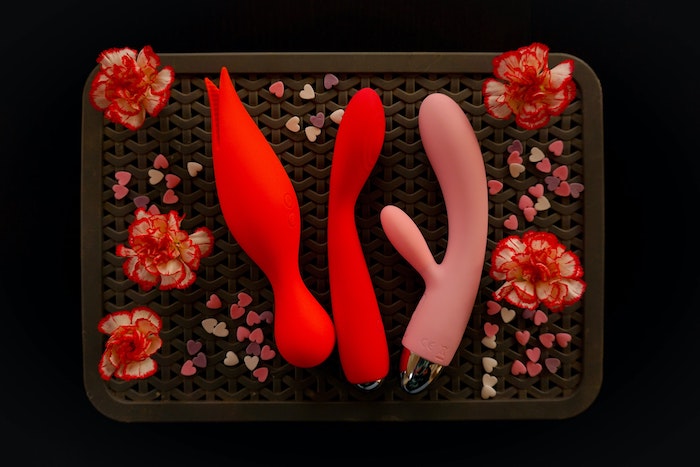 The sex toys you'll be using in your shows are up to your or your viewers' taste. Having the basics, like dildos, vibrators, novelty toys, and such, is always a safe bet. You can also improvise using whatever you have on hand. Just watch out for splinters.
But there's a wonderful trend going around the webcamming industry right now, and that's the use of interactive sex toys. Many cam sites allow the integration of these amazing gadgets into their chat systems. Tipping viewers can remotely activate your vibrator and even control their intensity and frequency through special chat features. The best cam girls right now are where they are because they take advantage of this special functionality.
Manufacturers like Lovense and OhMiBod have amazing interactive sex toy lines. Incorporating them into your acts improves engagement and will entice audience members to fling more tips at you.
7. Wireless gadgets
A wireless keyboard and mouse should be your default computer input devices. Throw Bluetooth headphones or earbuds into the mix as well.
Wired connections are great and reliable but they greatly limit your mobility. Wireless gadgets are particularly useful if you're shooting from your bed or if you constantly move around your scene.
Having your keyboard farther away from your mic also helps keep typing noises at a minimum.
8. Soundproofing
Bare acoustic panels look atrocious and would stick out like a sore thumb from your cam girl setup. Unless the entirety of your act is themed around "amateur DJ" or "home-based sound engineer", we think those bulging square foams have no place in webcam modeling.
There are workarounds, though. You can cover them up with tasteful lengths of textiles or place them on parts of your scene where the viewers can't see them.
If you'd rather not use specialty soundproofing materials, then you can populate your room with a lot of not-so-bulky furniture, such as tall cabinets and dresser drawers. These absorb sound and prevent echoes to an extent.
Thick curtains are also a viable supplementary option. Double or triple-layer them to improve sound absorption.
A Case for High-End Cam Models Tools: Cameras, Microphones, and Computer Parts
A hard-working cam model can rake in the big bucks just from their live shows. But why stop there? As an adult entertainer, you can make good money from other avenues on the internet.
Professional-grade video and audio
Many webcam models also sell pre-recorded content and photos either through cam sites or other membership-driven services, like OnlyFans. If you've seen OnlyFans videos, you may have noticed the impressive quality of some of them.
Good independent porn stars go the extra mile by shooting their premium content using premium equipment. And that's where your high-end hardware comes in. Sure, mobile phone videos today are amazing compared to how they were in the past. But footage shot using a Sony ZV-1 and a proper mic will wipe the floor with them any day.
Beefy workspace
And what about having a sensibly powerful computer system? In the course of your virgin journey to become a webcam model, you'll come across what is called streaming software. These are programs that work as the hub of your streaming components, like multiple video and audio sources.
Streaming software also allows for nearly unlimited customization. Some even work as a webcam splitter, making it possible to stream to multiple platforms. The two most popular streaming software are OBS Studio and Streamlabs OBS. They're also free to use.
Using streaming software can be very resource-intensive for your computer because they're essentially mini-production studios. Your system must be able to handle the load and provide enough juice to not just run the streaming app but also other vital computing processes in the background.
Other than being massively instrumental in making your live shows run as smooth as possible, you'd need a properly specced computer for editing pre-recorded content.
File sizes of HD video clips today are absolutely gargantuan. Editing just a couple of minutes of footage might take literally hours if your computer is not powerful enough.
The line between who's an expert and who's an amateur in the online entertainment world, regardless of genre, is no longer clear. This is largely because professional-level recording equipment is much more accessible and affordable today.
Future-proof your career as an online professional by investing in high-quality hardware. We're not suggesting you empty your bank account on the most expensive cameras and computer components on day one. We're merely advocating considering getting upgrades whenever possible.
Getting Ahead as a Webcam Model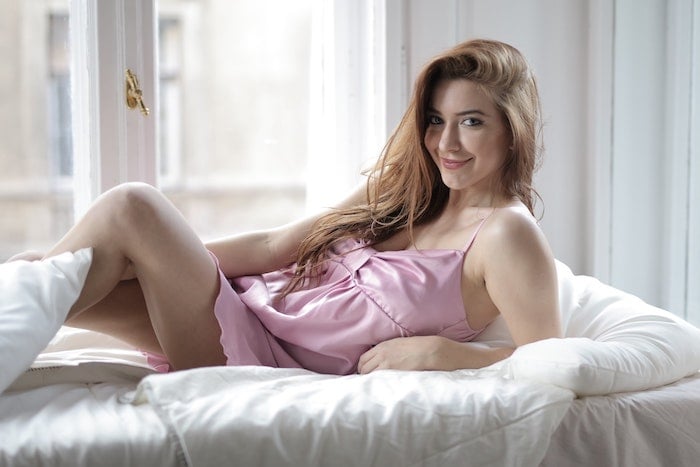 As a webcam model, you are the main product. The cam sites or your personal platform mainly provide the means for viewers to find you. It's up to you to piece together the machinery that will allow you to bring your content to the streaming portal and then to your audiences.
Having the right practical tools for webcam modeling is just part of your road to success. Upping your game by putting out shows with above-average video and audio quality and aesthetics is also a key to making a name for yourself amid the tens of thousands of other cam girls and boys.
You'll also be doing your part in elevating the status of live adult entertainment when your performances surpass expectations. So don't be afraid to experiment with your camgirl setup and invest in anything that you think will improve the backend operations of your cam shows.